Ambrogio
Ambrogio by Acquerello opened in La Jolla on Fay Avenue in November 2022 by Milano Five, a San Diego restaurant group along with a Michelin-starred culinary team from Ristorante Acquerello, a Modern Italian Restaurant just outside of Milan, Italy.
Ambrogio's cuisine is a fusion of flavors and techniques from five distinct regions: Italy, France, Korea, Japan, and California. Drawing inspiration from these diverse culinary traditions, the chefs at Ambrogio create a unique set of masterpieces that blend the traditional flavors of Milanese cuisine with the exoticism of Pacific Asian influences. This fusion of cultures and cuisines results in a dining experience that is both familiar and innovative, with dishes that are both comforting and exciting to the palate.
From the moment you step into the restaurant, you'll be struck by the attention to detail that has gone into creating the perfect ambiance. The modern decor is elegant and refined, with soft lighting and comfortable seating that invites you to relax and enjoy your meal.
But it's the food that truly shines at Ambrogio. The menu is a celebration of the flavors and textures of new Italian cuisine. From delicate plates of pasta to succulent meats and seafood, every dish is a masterpiece of culinary artistry.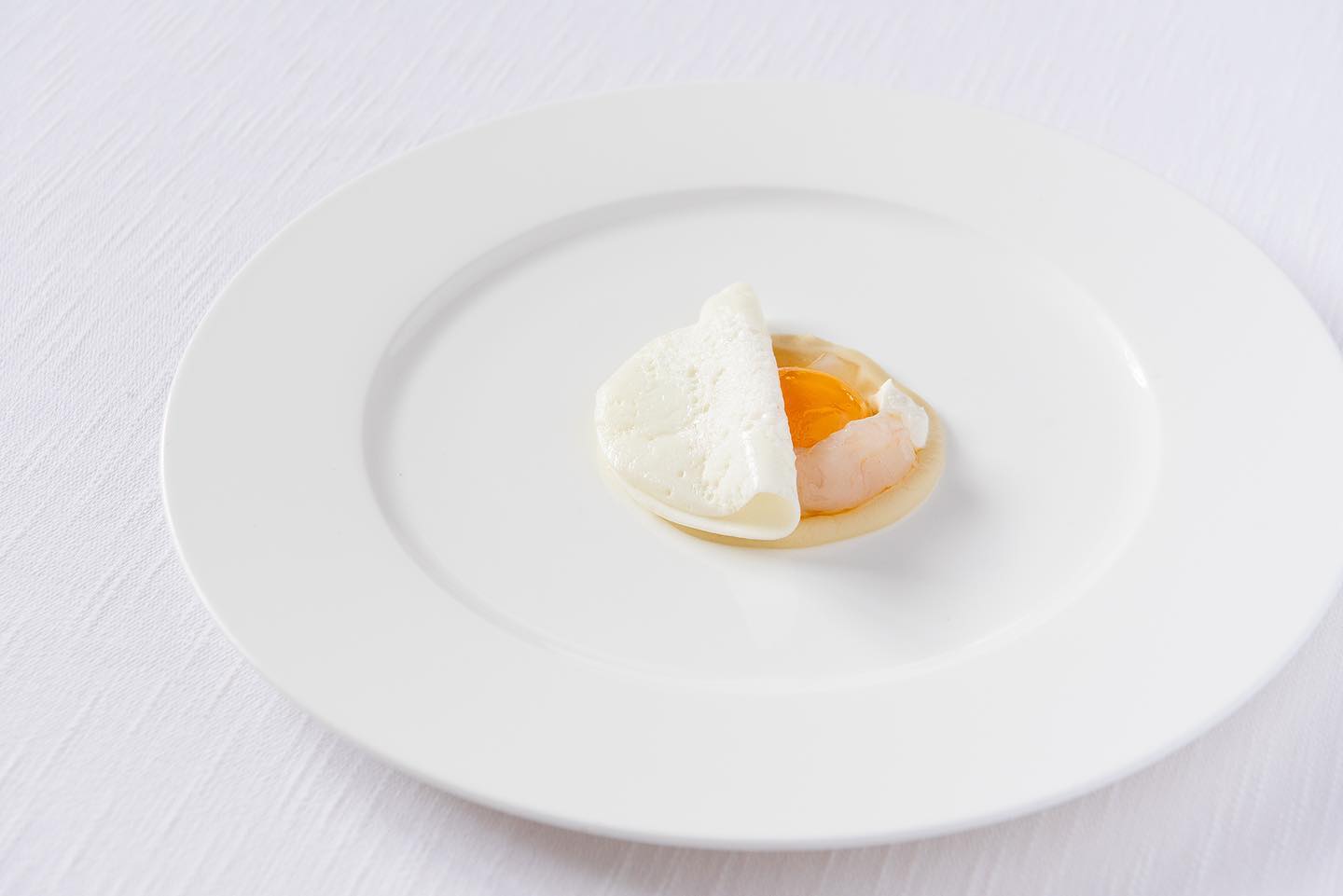 One standout dish on the menu is the "Omelette Surprise," diners are encouraged to guess the ingredients below the perfectly cooked egg. The "Merluzzo e Polenta," Alaskan Black Cod with toasted polenta and basil, is another must-try dish that showcases the restaurant's commitment to quality ingredients and gastronomy cooking techniques.
Ambrogio also offers a tasting menu that is an expertly crafted journey through the flavors and textures of Italy, showcasing the best of what the region has to offer. Each dish is a masterpiece, carefully curated to create a symphony of flavors that will delight your taste buds. The tasting menu starts at $139.
In addition to the superb dishes, guests can indulge in an exceptional wine pairing experience with an impressive selection of bianco, rosso, rosé, orange, and dessert wines sourced from boutique Italian operations. Many of these wines are exclusive to Ambrogio and its sister restaurants, making the wine-pairing experience truly one-of-a-kind. For an additional $129, guests can savor the flavors of these exquisite wines expertly paired with their meal. It's no surprise that Ambrogio was recently honored with a Best Contemporary Wine List award from the prestigious Italian guide, Gambero Rosso, recognizing their dedication to providing an exceptional dining experience that celebrates the finest Italian wine offerings.
The attention to detail that goes into every aspect of the dining experience at Ambrogio will keep you coming back time after time. From the impeccable service to the beautifully presented dishes, every element of the meal has been carefully considered to create a truly unforgettable culinary journey. Whether you're celebrating a special occasion or simply looking to enjoy a delicious meal, you're sure to be impressed by the culinary artistry on display at this exceptional restaurant.
Ambrogio is located at 7556 Fay Avenue, La Jolla, CA. Make a reservation at ambrogiobyacquerello.com